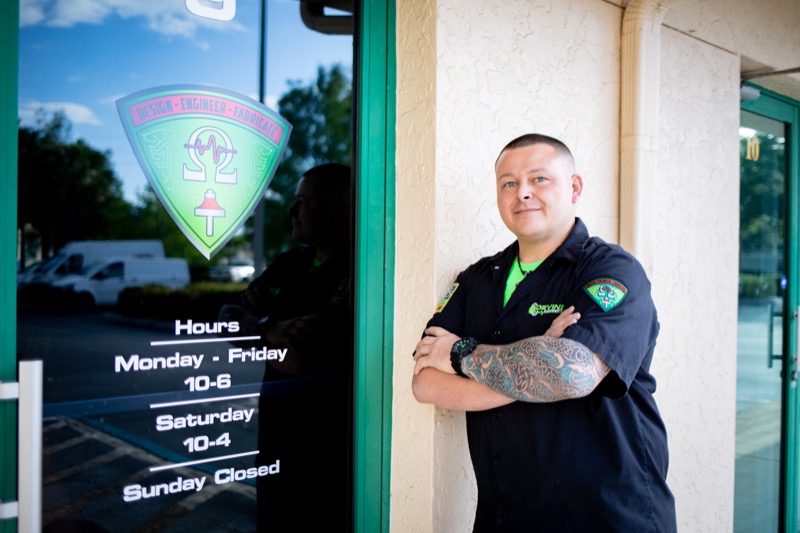 Devine Concepts is a mobile electronics retailer based in Naples, Florida. We are led by Adam Devine, a 20-year veteran in the industry and a Mobile Electronics Association top 50 Installer. Our company was founded in 2018 when we saw the need for a better-quality retailer in the Naples, Bonita Springs, Fort Myers and Estero area.
Customer service, client education and complete satisfaction are our top priorities. We take pride in making the time to listen to the specific needs of our client and educate them about what is available and possible. Our goal isn't like most shops that focus on a higher sales ticket. Rather, our goals are to meet and exceed our clients' expectations so they leave completely satisfied with their purchase and installation.
Education is probably biggest differentiator between us and the competition. We strive to stay on top of MECP (Mobile Electronics Certification Program) certification, as well as ongoing advancements in vehicle technology and industry changes. As the only local MECP Master Technician in a custom installation store, we take our education seriously and have been involved with that program for 18 years now. Adam also takes the time to give back to the industry as a part of the MECP Committee and Subject Matter Expert by helping write study guides and exams, and setting the bar for industry standards.
Our installation quality and expertise far surpass what the competition has to offer because our standards meet or exceed those of the vehicle manufacturer. Attention to detail and installation standards are our priority on every vehicle and installation. We do things like soldering every connection and using protective heat-shrink and OEM-quality TESA tapes to match the OEM wiring. When mounting components, we drill and tap, and use Nutserts and stainless steel hardware to ensure a reliable mount and easy serviceability. Butt connectors, T-Taps, Scotch Locks, crimp caps and self-tapping screws don't have a place in our installation standards.
When you choose to do business with Devine Concepts, the whole experience will be different. Our team will start with a consultation so we can get to know you better as well as look over your vehicle. It is our common practice to provide a tour of our facility so you can see our current projects as well as our capabilities. Our displays are designed to let us showcase the finest technologies available for you to see and operate.
We do all of this so you can receive the solution that best fits your unique needs. We often give behind-the-scene pictures to a client to show the progress on their vehicle while it's in our care for that extra-special treatment.
Finally, when the vehicle is done, we will walk you through the operation of all your new technology and be there for you in the future. Does all this sound good to you? Then simply click HERE to be taken to our contact form.